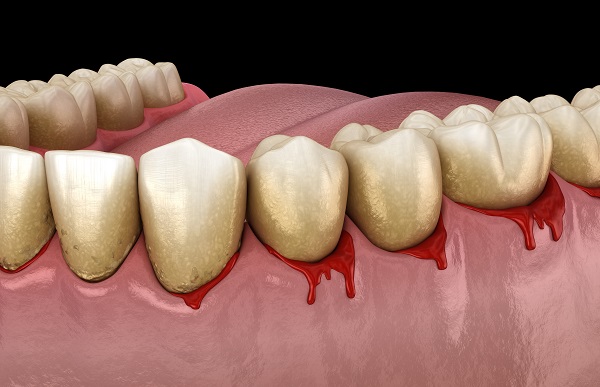 Gum disease is an infection of the soft tissues within the mouth. Many people suffer from a form of gum disease without even realizing it. The gums often get overlooked during oral hygiene, which can make it easy to miss the signs. Keep reading to learn more about what the signs look like.
What does gum disease look like?
Outlined below are a few common signs of gum disease. It is helpful to be aware of these signs to help identify gum disease.
Bleeding
Many individuals experience minor bleeding from time to time when brushing or flossing, which is normal. However, if there is excessive bleeding or if the gums bleed every time oral hygiene is practiced, then gum disease may be present. Using salt water to rinse the mouth can help stop the bleeding; however, this is not a long-term solution. Gum disease treatment will be required in order to address the infection and stop excessive bleeding.
Swelling or inflammation
Swelling and inflammation are two of the major indicators that gum disease is present. The gums are supposed to appear soft, but any puffiness or areas that appear raised may be a sign that there is an infection. Individuals who feel that their gums appear abnormal can gently touch their gums to see if there is swelling or inflammation. When waiting for an appointment with a general dentist, it can be helpful to rinse with salt water as it can help reduce inflammation.
Red or white patches
When the soft tissues of the mouth appear to be red or white in color, it is most likely a sign that gum disease is present. Healthy gums should appear pink with no patches or spots of white or red. Patches of discoloration may indicate an abscess or buildup of fluid behind the soft tissues, which can result in a more serious infection if not treated.
Pain or soreness
One of the main signs of gum disease is discomfort, which may result in feelings of pain or soreness. The pain may feel sharp and soreness may feel achy. Both can be remedied with an over-the-counter medication until an appointment with a general dentist is made; however, further treatment will most likely be necessary, as pain is never a good sign.
Foul odor
Individuals who have gum disease often have foul breath. The infection that lies beneath the gums can produce an odor, which is not pleasant. Any signs of bad breath may indicate gum disease or tooth infection.
Find out more about gum disease
Gum disease is a serious condition that should never go ignored. It is important to immediately consult with a general dentist as soon as any of the signs listed above are noticed. An evaluation can be performed in order to determine the appropriate course of action. Reach out today to learn more or to get started with a consultation. We are here to help get your gum disease under control!
Request an appointment here: https://www.drkarolineasbell.com or call Karoline Asbell, DDS PA at (561) 225-2063 for an appointment in our Boca Raton office.
Check out what others are saying about our dental services on Yelp: Gum disease in Boca Raton, FL.
---
Related Posts
March 25, 2017
With regular checkups at our office and proper dental hygiene at home, you can keep free of gum disease. Gum DiseaseGum disease can spread throughout the mouth and damage multiple teeth in the process. Fortunately, it …