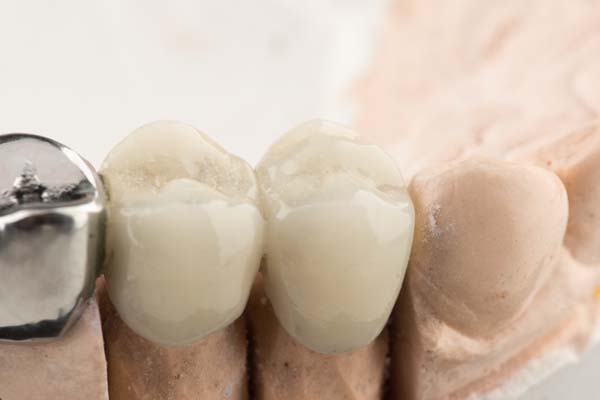 A dental bridge is a common method of teeth replacement in which a bridge of replacement teeth, known as pontics, are attached to crowns or the natural teeth on each side of the gap left by missing teeth. They are a great way to restore the appearance and health of your smile after tooth loss, providing you with a healthy mouth and a smile that gives you confidence.
How a dental bridge can replace missing teeth
The following is a review of how the dental bridge process works, what to expect after treatment, and how a dental bridge compares to alternative tooth replacement solutions. This should help you determine whether treatment is right for you and calm any anxieties you may have before you begin the treatment process.
How teeth replacement with a dental bridge works
There are several components to a dental bridge. The first step is to ensure the abutment teeth are strong and have the proper support to hold the replacement teeth. In most cases, particularly those in which the natural teeth need more support, dental crowns are placed on the abutment teeth to provide additional strength and to restore their appearance. Once this is complete, the replacement teeth (pontics) are attached to the abutments, completing the restoration.
When a dental bridge is typically recommended
A dental bridge is great for patients with one missing tooth or a section of missing teeth, although they are not ideal for replacing an entire row of missing teeth. While there are implant-support bridges, the most common type are fixed bridges supported by dental crowns that are placed over natural teeth. They are a more affordable and less invasive option than dental implants. They are also non-removable, unlike traditional dentures which must be removed and cleaned regularly. Many patients prefer the permanent and secure hold combined with the typically more affordable price than implants.
What to expect from a dental bridge long-term
A dental bridge can last for a decade or more if cared for properly. For the most part, patients can care for their dental bridge the same as they do natural teeth, which involves brushing, flossing, and using mouthwash as directed. Patients should also visit the dentist for regular check-ups to detect any concerns before they become severe.
How a dental bridge compares to alternative solutions
There are several ways to replace missing teeth. In addition to a dental bridge, many dentists also offer dental implants and removable dentures, as well. A dental bridge is often more affordable than dental implants and provides a more secure hold than traditional partial dentures.
Find out more about dental bridge treatment from our team
Do you have one or more missing teeth that need replacement? If so, call or send our friendly dental team a message to learn more about dental bridge treatment. We can answer your questions and provide you with the information you need to make an informed treatment decision.
Are you considering a dental bridge in the Boca Raton area? Get more information at https://www.drkarolineasbell.com.
Check out what others are saying about our dental services on Yelp: Dental Bridges in Boca Raton, FL.
---
Related Posts
March 15, 2017
Dental bridges are connected by two dental crowns that fill a gap and give the appearance of complete teeth. Dental BridgesDental bridges allow us to fill the gap left by a missing tooth and connect two …