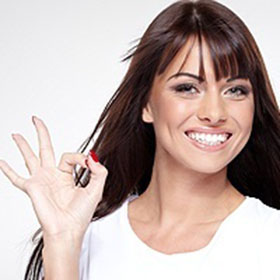 From reuniting with loved ones after months apart to meeting someone for the first time, a smile is the first things that people see. A smile can make anything better and brighter. There are people who avoid smiling and feel embarrassment toward the shade of their smile. In reality, a patient does not need to live with discolored teeth.
Needs more than normal brushing
The truth of the matter is that most toothpaste and mouthwash brands out there will not whiten teeth in the same way that a professional tooth whitening procedure will. Due to this, many people do not have perfectly white, Hollywood-style teeth and seek treatment from a professional service or product.
While the success of each product varies, patients can ask their dentist about teeth whitening and what the best option will be. Mouthhealthy.org lists that possible causes the change tooth color over time, including:
Coffee, tea, and red wine are a few common beverages that can cause tooth discoloring. Foods and beverages with excess sugar can also deteriorate the tooth over time. As with most people, the discoloration of one's teeth occurs naturally with age. In other cases, consuming certain medications can have undesirable effects on the tooth color. Patients, who experience this, may want to speak with a dentist and see if tooth whitening is right for them.
Stains are not easy to remove and at home products can be dangerous if one misuses them. The improper use of tooth whitening products can also have disastrous effects and permanently damage one's teeth. A professional teeth whitening service can help to rid the teeth of stains and produce the perfect smile.
The process of teeth whitening
The American Academy of Cosmetic Dentistry, AACD, conducted a survey and found that 99 percent of adults involved felt that a smile is an important social asset. Yoursmilebecomesyou.com adds that "74 percent of an unattractive smile can hurt a person's chance for career success."
While both professional in-office and at-home tooth whitening products use similar substances, the in-office teeth whitening service usually have better results. "Whitening products contain one of two tooth bleaches (hydrogen peroxide or carbamide peroxide)," the ADA continues that "These bleaches break stains into smaller pieces, which makes the color less concentrated and your teeth brighter."
Overall, a patient may only visit the office for one appointment to complete the teeth whitening. However, some patients may take a professional kit home from the dentist and continue using that. It is important a patient understands that not all teeth whitening products will work for each individual. Patients may spend large amounts of money on a product from the store that has little to no effect on changing the color.
If you are interested in brightening a smile, schedule a consultation with a dentist. Teeth whitening can hold many benefits for patients when done by a professional. A professional will make sure the patient receives the perfect smile he or she desires, while also making sure that the patient obtains it in a healthy way. Seek a brighter smile and begin living life on the bright side today.
Karoline Asbell, DDS PA
At Karoline Asbell, DDS PA in Boca Raton, FL, we will customize your treatment to match your needs and schedule. Our professional staff creates a calm atmosphere for you during the appointment and treatment process. If you have any questions or are unsure of what is causing the pain in your teeth, do not hesitate to call us.
We will answer any questions and make sure you get all of the necessary information. We can help prevent damage to your teeth and set you on track for a lifetime of pristine oral health. At Karoline Asbell, DDS PA, your experience with us and your dental health are our prime concern.
Certain foods and drinks
Tabaco use
Age
Trauma to the teeth or mouth
Medications
---
---
Related Posts
December 1, 2021
Teeth whitening is a cosmetic procedure offered by most general dentists. It targets and removes tough stains on teeth, brightening the patient's smile. It is important to properly prepare and have …
---